News
---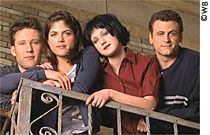 6.26.06 - Selma Blair has filed for divorce from actor-writer Ahmet Zappa.

| | |
| --- | --- |
| | Arnaldo Magnani/Getty Images |
11.16.05 - E!Online: Java Jones A slightly sleepy Selma Blair clutches a caffeinated pick-me-up and hits the pavement in New York's West Village, wearing a coffee-colored tunic, flared jeans and long, straight, shiny black hair. We like the brunet babe way better in her down-to-earth casual attire, much more than in those fancy-schmancy designer duds she wears on the red carpets. We'd take this nonfat latte lover to go anytime. -->

Djamilla Rosa Cochran
WireImage.com
10.18.05 - E!Online: Doodle Bug The writing's on the wall for Selma Blair at the Mont Blanc jewelry launch. Usually a classy dresser, Selma's sheer black lace frock looks like she let someone with ADD scribble all over her chest and arms. This evening attire might have worked with a black lining and more delicate heels. Hey, we don't care if that dress does have a designer name, it's giving us major writer's cramp. -->

8.2.05 - Selma Blair will be on The Tonight Show with Jay Leno the night of Friday, August 12th.

7.29.03 - From TV Guide Online: Anne Heche and West Wing star Dule Hill have joined the cast of Sexual Life, an indie feature about intertwined relationships among a group of adults. The pic -- which begins shooting next month in Los Angeles -- also stars Tom Everett Scott, Azura Skye and Ally McBeal's James LeGros.

3.20.03 - Azura Skye has been cast in the CBS crime pilot Expert Witness.

3.8.02 - TV Guide Online: Ugly Stepsister Pretty Wonderful - Once upon a time, rising starlet Azura Skye received a phone call from her agent that she easily could have mistaken for a chat with her fairy godmother....

1.23.02 - TV Guide Online Caught in the Act: Here's a story about a lovely lady: Legally Blonde co-star Selma Blair channels her inner Audrey Hepburn at the New York City premiere of Todd Solondz's Storytelling.

7.18.01 - TV Guide Online: Cruel Intentions Stars Reunite - With her nasty role as Reese Witherspoon's Harvard Law rival in Legally Blonde, Selma Blair fears she's "lost any chance of ever being Amercia's sweetheart."...

10.14.00 - "Cruel Intentions," starring Selma Blair, will be on Cinemax 2 on Tuesday, October 17th and Saturday, October 21st.

6.9.00 - The Hollywood Reporter tells us that Selma Blair has signed on to star in writer/director Todd Solondz's as yet untitled film along with James Van Der Beek ("Dawson's Creek"), Heather Matarazzo ("Now and Again") and Emmanuelle Chriqui ("Manchester Prep").

6.5.00 - Selma Blair won a best kiss (with Sarah Michelle Gellar) trophy at the 9th Annual MTV Movie Awards for her role in the 1999 film "Cruel Intentions."

6.2.00 - Selma Blair is in talks to star in Todd Solondz's new film for New Line Cinema about the pressures of fitting in at high school and college. Heather Matarazzo ("Now & Again") and Emmanuelle Chriqui ("Manchester Prep") have already been cast.

4.16.00 - Look for Zoe's mom, Mary Page Keller, on the April 28th episode of "Providence" on NBC.

12.22.99 - Selma Blair is on the cover of the January issue of Details magazine.

9.1.99 - TV Guide: Sara Rue Loves Her Body

7.15.99 - Selma Blair is reportedly close to securing the female lead in a new movie entitled "A Leonard Cohen Afterworld." She would play a prostitute who joins two Nirvana fans on a pilgrimage to Seattle after Kurt Cobain's death in 1994.

4.13.99 - Selma Blair has snagged a role in a romantic comedy starring opposite Freddie Prinze Jr. Blair will play an MIT graduate-turned-porn actress who makes Prinze's character question his feelings for his girlfriend.

3.15.99 - Selma Blair is one of E! Online's Sizzlin' Sixteen of 1999.

3.15.99 - Wanda at E! Online wasn't a big fan of "Cruel Intentions," although she was intrigued by the spit-swap between Selma Blair and Sarah Michelle Gellar.

3.15.99 - Transcript for Selma Blair and David Moscow chat on Ultimate TV.

3.12.99 - "Cruel Intentions," starring Selma Blair (along with Sarah Michelle Gellar, Ryan Phillipp, and Reese Witherspoon), is currently in theaters.

2.3.99 - Matt Roush reviews "Zoe, Duncan, Jack & Jane" on page 12 of the Feb. 6-12 issue of "TV Guide."

1.21.99 - A short article on David Moscow can be found on page 9 of the January 23rd issue of "TV Guide."

1.20.99 - Article on Selma Blair at Ultimate TV.

1.13.99 - Article from "Variety."